Although we couldn't meet in person as a church to mark the start of 2021, we encouraged City Gaters in their households & bubbles to take a stroll to the beach, gather some pebbles and make a little memorial, being creative with the different colours found; choosing a different shape such as a heart, cross or star.
Looking back over the past year, we used the stones collected as a way of:
• Being thankful to God the Father for his faithfulness over this last year.
• Remembering his covenant with us
• Honouring Jesus, the rock on which our lives are built
• Laying down any heavy 'stones' we don't want to carry into next year: forgiving someone, asking God to take the weight of people we worry and care about, letting go of anxiety.
• Praying for the church, the 'living stones' that we might be built together in greater unity this year
• Being thankful that, by the Holy Spirit, we now have his law written, not on tablets of stone, but on our hearts. It can be an opportunity to recommit ourselves to building our lives on the Rock and following his ways.
• Praying for a soft heart this year.
Here are a few rocks collected on 1st Jan from one of our members:
Heart shaped Earth I thought… reminding me to pray on Earth as it is in Heaven.  Resting on a lovely red rock…. "Our Rock, Our Redeemer "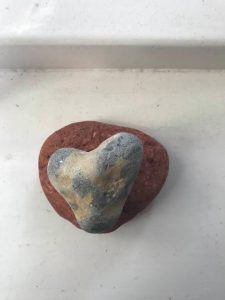 The 2nd photo is a Mother and child….reminding me to pray for pregnancies, childbirth and all those becoming parents during this time.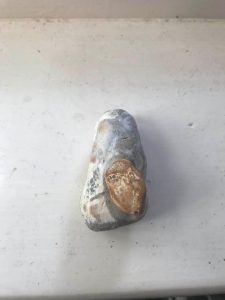 Last ones….empty shell….reminding me I need to be filled each day with more of Jesus, and a stone which looks like a ✔️ to say Yes!! To Prayers of Faith, Hope and thankfulness.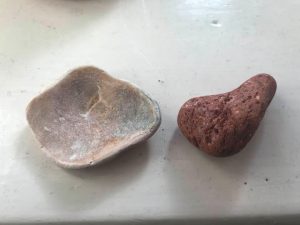 You may want to gather your own stones to spend time in January being thankful, reflecting on the past year and holding onto hope for 2021.
Let the words of my mouth and the meditation of my heart
Be acceptable and pleasing in Your sight,
O LORD, my firm, immovable rock and my Redeemer.
Psalm 19