Sunday Communion – Did you catch anything?
October 24 @ 10:00 am

-

11:00 am
This Sunday 24th October we are meeting at Brighthelm in the auditorium at 10am, followed by drinks in the café. Kirsty will be asking the question 'Did you catch anything?' sharing from John 21:1-14,
New Living Translation
Epilogue: Jesus Appears to Seven Disciples
21 Later, Jesus appeared again to the disciples beside the Sea of Galilee. This is how it happened. 2 Several of the disciples were there—Simon Peter, Thomas (nicknamed the Twin), Nathanael from Cana in Galilee, the sons of Zebedee, and two other disciples.
3 Simon Peter said, "I'm going fishing."
"We'll come, too," they all said. So they went out in the boat, but they caught nothing all night.
4 At dawn Jesus was standing on the beach, but the disciples couldn't see who he was. 5 He called out, "Fellows, have you caught any fish?"
"No," they replied.
6 Then he said, "Throw out your net on the right-hand side of the boat, and you'll get some!" So they did, and they couldn't haul in the net because there were so many fish in it.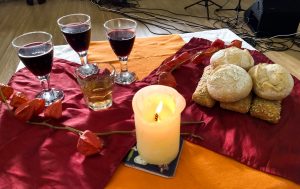 …………………………………………………………………..
On the fourth Sunday of each month we are currently meeting together in person at Brighthelm Community Centre on North Road at 10am,  for Holy Communion, followed by tea and coffee in the cafe.  If the weather is good, we may be outside in the gated garden area at Brighthelm, though most weeks you can find us in the Auditorium on the ground floor.
Our meetings have a relaxed feel with a time of worship, prayer, and holy communion and currently last around 1 hour.
We are now in Step 4 of government guidelines for Covid-19, therefore we do not require you to sign up to attend our regular meetings – you are welcome to just turn up on Sundays.
Whilst masks are no longer mandatory, we advise all City Gaters and visitors to wear masks when moving around the building, with personal discretion at other times. Please take your seats on arrival, and there will be optional 'Please leave this seat free' spacing cards available at the entrance of the auditorium, for people to put on the chair next to them.
Please consider doing a lateral flow test before attending, as we will be singing in corporate worship.
Please stay at home if you are showing signs of high temperature, persistent cough, loss of smell or taste.
If technology allows, we will be streaming live on YouTube.  Please click on the link below to follow us this weekend and join in remotely, if you can't make it in person!
Our City Gate Church YouTube channel to subscribe to is: https://www.youtube.com/channel/UCxEL2Gu4RQdEge764LUiwvg
We look forward to having you join us!